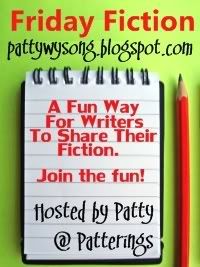 *Joanne Sher, over at An Open Book is hosting Patty Wysong's Fiction Fridays meme today. For more great fiction or to post your own fiction piece, click here.
Hotel Doors
My heart is thumping through my chest with nervous anticipation. I look in the bathroom mirror of my hotel room, fluffing the matted hair from my forehead.
Deep breath in. Deep breath out. You can do this, Jaimee.
I smile, but my cheeks hurt from smiling all day, so I try on a sensuous look instead.
Okay, now you just look like a dork. Come on. Act natural. You've been waiting for this moment your whole life.


A gentle knock, followed by my love's tender voice distracts me from my one-woman counseling session. "Sweetie, you okay?"

I smile in the mirror as if I'm talking to him face-to face. "It's all good, Hon. I...might need some extra time, K?"

"Of course, punkin, just makin' sure you didn't change your mind. (nervous chuckle) Take your time...um...you know how much I love you, right?"

Aghast, his words trigger a horrible memory. Those words.
"Take your time..."
and
"you know how much I love you, right?"
The diagonal stripes on the wallpaper blur as I brave an answer: "Yup...you're stuck with me...and I love you too..." Grabbing both sides of the sink for balance, I look up in the mirror and see a younger me--same matted hair, different dress. Then, a knock on the door echoes from the past.
"Jaimee, unlock the door. We can talk about this. Let me in, okay?"
"No, Mark! Just go away. I need to think." Stinging tears painted a trail of mascara down my splotched cheeks.
"Come on, Jaimee...You know how much I love you, right?"
"Love me?" The gunk in my throat thickened with each word. "You know I'm a Christian. You know how important my virginity is to me. I've told you this a hundred times."
"Yes, I know, but I just thought with it being our senior prom and all, that maybe…"
"…that maybe you'd take me to a motel and take advantage of me?"
"No, I wanted our night to be special. I thought you knew after being together for
five whole months,
how much I love you. I thought you loved me too."

I slapped my hand on the door. "I do love you, but I'm confused," I whined as my forehead hit the wall in desperation. "I don't want us to make a mistake, Mark—one that could change our lives forever."

He softened his voice. "Well, I'd never hurt you. Think about that. Remember how patient I've been. I've never pressured you before, and I've had to use a lot of willpower, so…remember that. Jus—just take your time, okay?"

Time was irrelevant in that moment. My senior prom was supposed to be like a fairy tale—a night to smile over in my diary. Instead of the memory of a Cinderella goodbye kiss at my front door, I was there, crouched on the floor of a dirty, cheap motel room.
How did I get here, God? Did I make him think I wanted this? Please, help me be strong. I want to keep my commitment to stay pure until marriage, Lord.
I caught a scent of the beautiful pink and white corsage which had completely captivated me earlier. I knew Mark had spent hours getting it perfectly matched to the color of my dress, because he told me so.

My heart began to warm up with memories of all the considerate things he had done for me and the patience he had demonstrated regarding my faith. "Mark, you still there?"

His voice was leaning close to mine on the other side of the bathroom door. "Yeah. Told you I would be, didn't I?"

He sounded like a wounded puppy.
Maybe he does love me. Maybe I should…


"I paid almost thirty bucks for this room, did'ya know that," he exploded, awakening all my good senses.

My resolve thickened, and God's confidence spoke through me. "I don't care about your thirty bucks. My virginity doesn't have a price tag. When I unlock this door, I want you to take me home. You got that?"

His voice squeaked, "Yeah."

"I mean it, Mark. If you love me the way you say you do, then you'll drive me home."

"Whatever. I'll take you home, but you're paying me back for the room."

I unlocked the door, aimed my eyes straight to the hotel door and walked bravely to the car without looking back. Mark drove me home, and we never spoke to one another again. (I did, however, leave thirty dollars in his locker on the last day of school—in pennies.)


"You sure you're alright, Punkin?" The voice of my true love brought me back to my present reality.

"Yes, um, alllllmost ready..."
No, I'm definitely ready.
It finally made sense--what used to be a traumatic memory had now become a triumphant one. God blessed the decision from my senior prom night by replacing it with a brand new beautiful memory to be made this night—my wedding night.

I flash a wink and a smile in the mirror, admiring the glow of purity that beams from my face. As I come out of the bathroom into our honeymoon suite, I find my husband—wait, let me say it in my sensuous voice—my
darling
husband—extending his hand to me. "Care to dance, Mrs. Morris?"

A blushing bride, I waltz into his arms of love, closing the door of that old memory behind me.

********

"I remember the days of long ago; I meditate on all Your works and consider what Your hands have done."
Psalm 143:5, NIV
In the Key of HE,