*

**Posted for Patty Wysong's Fiction Fridays meme. For more great fiction or to post your own fiction piece, click here: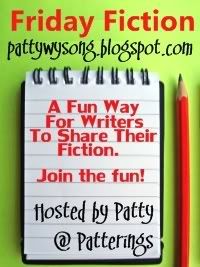 The Sunday School Diaries of Virginia Dee
(7 years old—)
Deer Diry,
I got to go to sundy skool today. I had fun. My teechrs name is Mistr Mark. He says his name is jest lik the mark in the bibl. A Boy named Fil poold my hare.
Deer Diery,
I jes lernd that G-O-D luvs me in sunday skool that made me feel glad. Fil Smith kep gofing off.
(10 years old---)
Dear Diary,
Jesus loved me and dyed for me. My teacher said that she loved me too. I want to know more about what we learned in Sunday school yesterday. We sang a lot and I love that part. Phil sang in a high voice in my ear to iritate me. The teacher winked at me and smiled.
(15 years old---)
In youth class today, I learned about fighting temptatation with prayer and the Bible. I really needed to hear that message. I can't believe that Jesus was tempted in every way I am tempted. That is neat. I got to play piano for the song time. Phil Smith really embarassed me when he started clapping loud and smiling at me.
(19 years old----)
I finally found a church with a college s.s. class! It is so incredible, because we go really deep into the Word! No more baby food for me! I've never felt so close to God—ever! I have to admit, though—I sorta miss Phil.
(25 years old---)
It's strange going to a young marrieds class. All the guys go on one side of the room while the ladies go to the other. It feels so shallow compared to the people I knew in the singles class. Oh well, Phil says we'll get used to it soon enough.
(37 years old---)
We're only making it to S.S. twice a month now. Phil and I thought that it was time to take all the Bible knowledge we have and use it to teach the younger kids. It's fun, though, especially since we can't have children of our own.
(52 years old---)
I am truly amazed and blessed by how our Sunday school class has surrounded us through Phil's cancer. I honestly don't know how we would've made it through without the love of the Lord being poured out through them.
(70 years old---)
My heart is torn to bits over losing Edith Howard this past week. She was the prayer warrior of our class for over twenty years. She did so much for me when I lost my Phil. Seems like our class is dwindling down to nothing quickly.
(82 years old---)
I miss the days of prayer and study in my Sunday school group. They don't have one here at the facility. I do enjoy playing the piano in the cafeteria, but I just feel lonely for the people I grew in body and spirit with for so long. I thank God for them every day.
(87 years old---recorded by Beth Johnson, nursing home volunteer, on behalf of Virginia D. Smith)
My brother's granddaughter came to see me in the facility today. She said that her church is no longer going to have Sunday school. Something about changing its model. What's odd is that she didn't seem the least bit upset by it. But my soul is broken to bits thinking about her missing out on the fellowship and community that made my love for God and others so deep and full. What will she do when she's old and gray with mainly her memories to keep her company?
Hopefully, she will be led soon to a church that understands the value of a good Sunday school program.
I'm going to ask the nurse to help me get to my knees to pray.
It is the only thing I can do.
God save Sunday School.
*********
These journal entries were compiled by Allison D. Jenkins, the great niece of Virginia Dee Smith. In her last days, she begged me to go through her diaries and gather the entries of her Sunday School memories. It meant so much to her that I couldn't help but respond to her request. One month after her passing, I found a church with a thriving Singles class. Even though they don't call it Sunday School, I have never had such Godly connections, so it must be the same thing. I owe it all to Aunt Virginia for praying. My only complaint is this guy named Jay who really bugs me.
(and yes, this is still part of the fiction story)
In the Key of HE,