*

**Posted for Patty Wysong's Fiction Fridays meme. For more great fiction or to post your own fiction piece, click here: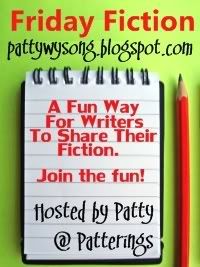 Home's Familiar Song
As Meg climbed the concrete steps to the front porch, Loneliness dragged behind her. She'd buried her emotions throughout her entire first semester of college, but they had suddenly shot to the surface. A familiar melody calmed her demeanor, though, welcoming her home.
Oh, how I've missed the sound of the wind chimes.
Meg's mom hugged her at the door, then began chattering as usual. "Hi, Sweetheart. You okay? You look worn out. Let your brother take your bag. Are ya tired, Meg dear? Nathan, get her bag. Come inside and sit down, Sweetheart."
"Mom—I've been driving for six hours. I'd rather stretch for a minute."
After a big bear hug, Nathan grabbed her bag and ushered her into the family room. "Speaking of driving, Sis—read it—and weep." Snapping a white slip of paper about an inch from Meg's eyes, Nathan held his chin high in the air.
"My baby brother's allowed to drive?" Meg grabbed it. "Oh, this is a problem…" she teased. "They misspelled your name."
Nathan stripped the sheet from her hands. "Wha?"
Grinning, Meg took cover behind her mom.
"Now that deserves a thump from the—" Nathan deepened his voice and bellowed, "—the FLICK MEISTER!" Reaching over his mother, he flicked a cherry on Meg's forehead.
Meg shrieked like a schoolgirl.
"Okay, you two…" His face gleaming with pride, Meg's dad limped as fast as he could to embrace her. "Oh, how I've missed you, Honey."
"Me too, Daddy."
"Come on to the table, Meg dear. Are you hungry? Been eatin' okay? Yer awful skinny. Isn't she skin-n-bones, George?"
"Mom—I'm eating fine. Just busy studying. And I walk to all my classes, so…"
Pulling out 'her chair' at the kitchen table, Meg's dad led her by the arm to sit down. "Your mother made your favorite."
Meg drank in the delicious smell of her mother's chicken potpie.
Ohhh—I'm gonna cry. Keep it together, Meg.
The muffled tune of the wind chimes reached her just in time to calm her spirits. "It smells heavenly, Mom. You shouldn't have done all this."
She grabbed the potholder that Meg had knit for her in the fifth grade. "Now, Sweetie, what kind of homecomin' would it be without some potpie? Besides, your brother said he'd do the dishes, didn'cha, Nathan? Kids today need more responsibility if you ask me, don'cha think, Meg dear?"
Egging it on, Meg shot Nathan a wink. "Definitely, Mom—uh huh. More responsibility."
"It's a conspiracy, Dad. She's back home for like—two seconds, and already they're gangin' up on me." Nathan flopped down in 'his chair' just to the right of Meg's. "Nice to see nothin's changed."
"What's a man gonna do, Son? We're up against brains and beauty."
Nathan leaned his elbow on Meg's shoulder. "So, Miss Brains-n-Beauty, how many hearts you broken at your fancy schmanzy music college?"
Dripping with sarcasm, Meg said, "As many as you've broken with your bright red crayon in art class, Little Brother."
"Touché," Her dad said, giving Nathan a look to drop the subject.
Stomachs full, the family of four retreated to their usual conversation spot on the front porch. As was the custom, Meg and her dad sat together in the wooden swing, her mom in the rocking chair, and Nathan on the top step leaning against the iron railing. The wind chimes hanging above her head rang a soft, familiar tune.
This feels so right. I'm home.
"So…you happy, Meg?" Her dad always had a way of surpassing small talk.
"Of course she's happy, George. You're doin' whatcha love, right, Meg dear? It makes us happy just knowin' you're happy, doesn't it, George? " Her mom smiled nervously and nodded her head up and down while she rocked.
Loneliness could not stay quiet any longer. "Actually? I'm miserable…I miss my family." Meg's confession released her tears, and her daddy scooped her wet cheek to his shoulder.
Nathan swallowed hard. "We miss you too, Sis."
Her mom's rocking chair ceased its dancing. "Yes, Dear. It's been awful quiet without you singin' and playin' the piano. Don't we miss her singin', George?"
Stroking Meg's hair, her dad sighed. "This is what I miss. Us—as a family, right here on the porch. Talkin'. Laughin'. Prayin'."
Meg felt a tear warm her scalp. "Me too, Dad."
"Well…" George stood up and motioned for everyone to gather together. "Let's do some of that prayin' right now then."
The wind chimes hummed in the background as they prayed.
In the Key of HE,