*

**Posted for Patty Wysong's Fiction Fridays meme. For more great fiction or to post your own fiction piece, click here: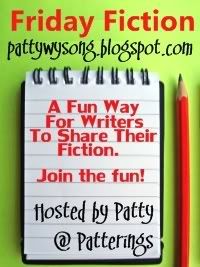 Hospitality Personality
The host who has the most:
What will they think of my house this time 'round?
My floors look so fab, and my drapes should astound.
If they don't really like it, then they just have no taste.
Who am I kidding? They will have it showcased!
The host who likes to boast:
They're so blessed to come to my house for some learning,
For I will teach them what they've always been yearning.
The plaques and degrees on my wall say it all.
Thank goodness for them I have answered His call.
The host who can toast and roast:

What dish can I make that is sure to impress?
My cheese toast is good, but my roast is the best.
They'll come and they'll feast 'til their bellies are bursting.
No one will leave here with hungering or thirsting.
The host who serves as a guidepost:
Oh, God, here I am with the space you've provided,
Through You let my words and my actions be guided.
I pray each will leave with a heart that's renewed,
Guided into deeper fellowship with You.
1 Peter 4:9, NIV
"Offer hospitality to one another without grumbling."
What kind of host or hostess are you? Since we're talking fiction here...eh hem, cough...can you think of any other kind of host to add to my poem?