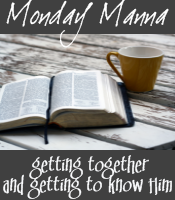 "My heart says of you, "Seek his face!"
Your face, LORD, I will seek."
Psalm 27:8
I've walked in the faith long enough to know that I must look to the Lord for everything, every time, every purpose. I know it, know it! All I have to do is look back and see...reflect back and remember...He has been faithful. This I know.
Yet my heart is deceitful above all things. It doesn't have a memory. It tends to follow my emotions if I'm not careful.
It's no accident that
Kristen at Exemplify
posted this as today's verse to ponder and discuss. As a matter of fact, hardly a day goes by when I don't need to be reminded that I not only need to seek Him with my mind and declare it with my mouth...I need it to be the overflowing attitude of my heart as well.
For me, the only time that happens is when I go before the Lord small--empty--surrendered.
As He fills me up by the power of the Holy Spirit, then my heart follows after Him. When I don't, my heart follows my emotions and compulsions instead.
So I declare with my mind and my mouth, "Your face, LORD, I will seek. Open, humble, ready, willing." And my heart will declare it too.