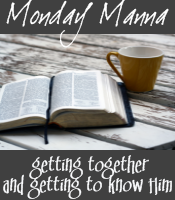 Monday Manna is being hosted by Joanne at
An Open Book
today. I couldn't resist jumping in on the Scripture because I JUST FINISHED WRITING A DEVO ON ROMANS 12:1 for a completely unrelated writing project at my church (literally, the deadline was today). Joanne encouraged me to post some of it. I'm sure the timing is not a coincidence. Joanne posted an INCREDIBLE perspective on it, as far as all the others I've read so far, so go by and read and join in if you can...
Romans 12:1 "Therefore, I urge you, brothers, in view of God's mercy, to offer your bodies as living sacrifices, holy and pleasing to God—this is your spiritual act of worship.



My entire adult life has revolved around serving God, especially in worship and drama. For many years, this is how I understood Romans 12:1:
"…offer your bodies as living sacrifices, holy and pleasing to God…this is your spiritual act of worship."
And I lived it out, offering myself to the Lord's service, wherever He called me. I served Him with my talents, but also with my gifts of shepherding and encouragement. My prayer was for all of it to be holy and pleasing to the Lord, and to live out my call to worship.
An internal struggle came, however, when I noticed some strongholds in my life.
Why am I struggling?
I thought.
I'm supposed to be holy!
As I cried out desperately for help, the Lord lovingly showed me what I was missing in this "living sacrifice" kind of faith. He opened my eyes to the whole verse:
"THEREFORE, I urge you…IN VIEW OF GOD'S MERCY, to offer your bodies as living sacrifices…" (emphasis mine)
Once I understood the entire verse (and its context with the preceding chapters), I realized that the emphasis is not on
ME
living a life of worship. Rather, it is on living with God's mercies in full view. It's saying, "Therefore—after eleven chapters of theology showing what you've died to, what you're alive to, and what the Lord has done for you—THEREFORE—In view of those mercies, see worship for what it really is—not a gift you give to God—rather an offering of grateful sacrifice you live for God, knowing you don't deserve a lick of those mercies."
But there's that one last word:
sacrifice.
I say I'll give it all, yet I feel an agitated resistance to any discomfort that accompanies it. The only way for me to say "not my will, but Yours, Lord" is to continually focus on God's character. It takes a mind that is preoccupied with the truth of God—as verse two says—
a renewed mind.
Do not conform any longer to the pattern of this world, but be transformed by the renewing of your mind. Then you will be able to test and approve what God's will is—his good, pleasing and perfect will."
With His renewal (and constant help), I'm able to live out God's "pleasing and perfect will," and finally experience true worship—the kind that flows from a grateful heart.
Lord Jesus, I am overwhelmed when I stop to think of all the mercies You have given me. Eternal love and grace and joy, saving faith, strength, the Holy Spirit as a helper, righteousness, eternal life and security and everlasting peace. All of these and so much more compel me to live for you, yet I'm so bad at it sometimes. Forgive me, Lord. Forgive me when I forget to look from this point of view, and strengthen me according to Your Word. Thank You for giving me everything I need for this life and for Godliness. I long to sacrifice my all for you today. In Jesus' name, Amen.
In the Key of HE,